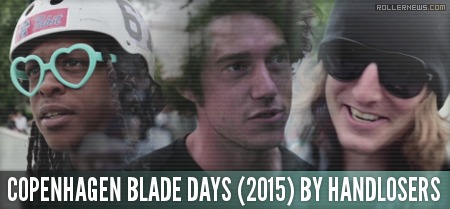 It's no secret that the media always tries to make you believe what THEY want you to believe. We are no different. In order to make you believe that the Copenhagen Blade Days was an epic weekend, we hade to send our reporter to Denmark.
Camera: Anders Bergen, Joel Fernberg, Gabriel Gok and Vincent Lindgren. Edit: Anders Bergen. News anchor: Emil Sejby. Reporter: Victor Karlsson. Respondents: Christan Berg, Chris Farmer, Montre Livingston, Nick Lomax, Seth Nicolas and Worapoj Boonnim.
Results
Nick Lomax
Jacob Juul
Montre Livingston
Previously: Copenhagen Blade Days 2015: Official Edit.
Filmed & edited by Gregory Preston.

Support Rollernews:
make your purchases on
Amazon via this link
. Thanks!
Tags: chris farmer, copenhagen, copenhagen blade days, denmark, hang losers, montre livingston, nick lomax