The general release of the Cityhopper World video edited by Remy Cadier gives you a dazzling 20+ minute insight in the journey of the crew.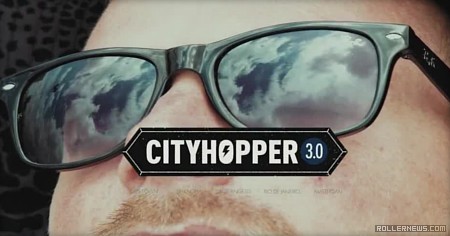 Axel van Dijk who filmed a lot of shots used in the video made this small banging edit for you to enjoy. This is like a director's cut from his point of view.

Axel has a different style and approach and shows you one trick of Sven after the other. Axel combined forces with good friend and DJ DNS where he mixes images with a custom made music set. Sit back and enjoy this mixtape of hammers from Sven dipped in the FLV sauce.
Filmed by Axel van Dijk, Remy Cadier and Niels Groenendijk. Music: Engel & Just – That 'ol boombap, Engel & Just ft. DJ Native – Correct, Diggy Dex ft. DJ DNS – Zo goed.
Previously
City Hopper 1 (2012): Video (Best-of) | Documentary | Trailer.
City Hopper 2 (2014): Video + Documentary | Trailer.

Support Rollernews:
make your purchases on
Amazon via this link
. Thanks!
Tags: cityhopper, cityhopper world, sven boekhorst