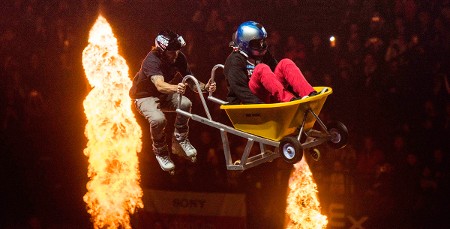 Nitro Circus features the best in the world in the top action sports: FMX, BMX, skateboard, inline, scooter, snowboarding, skiing, quad, snowmobile, the list goes on.

But when we want a break from back flipping those things, it can be hard to find something else to ride off the ramp. That's why we invent new things. The contraptions we launch off Giganta range from things that have wheels but aren't meant to be flipped, like kids tricycles and penny farthings, to things that aren't even supposed to have wheels in the first place, like rocking horses and whiskey barrels.

They're always crowd-pleasers, and they're often the result of some of the dumbest ideas we've ever had. Check out five of the best shots of Nitro contraptions in action.
Full Article on Nitrocircus.com (April 20, 2016).

Support Rollernews:
make your purchases on
Amazon via this link
. Thanks!
Tags: chris haffey, nitro circus