Filmed & edited by Patrick Andersen.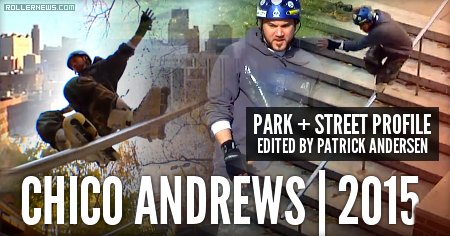 Chico Andrews and I traveled all over for this edit. It all started on November 13th at Woodward for a weekend We got back on the 15th super late and we had 2 days to rest before our first trip.

We were constantly on the go giving us about 2 days to rest before going on the next trip. Not only did we travel all over PA (Philadelphia, State College, and Pittsburgh) but we also hit Detroit, MI, Manhattan, NY, Jersey City, NJ.

On December 14th we hit the road back to Atlanta to take me back. We made a few stops on the way! We stopped in Washington, D.C., Raleigh, NC, Charlotte, NC, and then our final destination Atlanta, GA!

It was really fun hanging out for a month being able to go to places ive never been before and do the 2 things I love to do, skate and film! Here is the final piece of what I made for Chico on our travels. Hope you like it! – Patrick Andersen.

Support Rollernews:
make your purchases on
Amazon via this link
. Thanks!
Tags: patrick andersen