Results
1. Erik Bailey
2. Brandon Weller
3. Josiah Blee

Best Trick: Aaron Feinberg.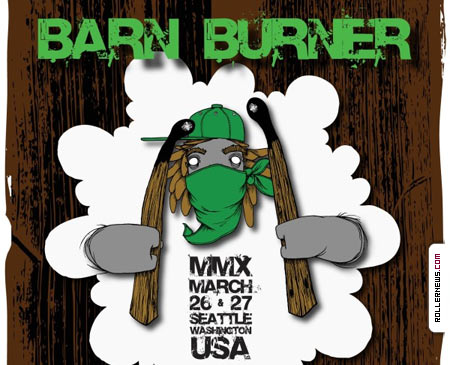 Barn Burner 2010 Finals
quoting Jonathan Roulston:
Did not plan on filming this years 10th Barn Burner competition, but during the warm ups to the finals, I noticed there wasn't many people who were actually filmed the comp, so I felt obligated to document something.

I went up to everyone of my friends asking them to help me film and Zach Smith agreed to help out. We were filming earlier in the day and I was low on batteries and tape. We missed a lot of tricks. The top 3 landed a lot more than I was able to film, and Aaron got hurt during the finals and wasn't able to land all the tricks he needed for the win.

I spent 30 minutes editing, no color correction, and song choice wasn't decided until my drive home from work.

Song: Beatles – Mean Mr. Mustard ; Polythene Pam – She Came in Through the Bathroom Window.
More Footage:

Support Rollernews:
make your purchases on
Amazon via this link
. Thanks!
Tags: barn burner, barn burner 2010