4th edition of the event: September 10, 2016.
Syeahskate is a group of friends from Athens, Greece who love to blade. We have turned our residential home into a blade – house!

Equipped with terrace rail-boxes, an indoor bowl, a handrail and more, we are happy to invite you to our 4th annual event, this September 10th in Athens, Greece!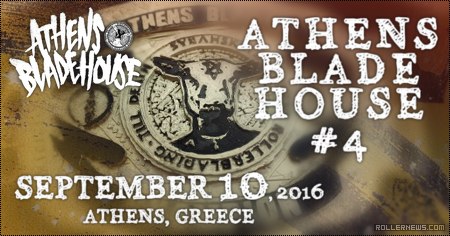 Experience the madness that is Greek summer, and have some great blading sessions! Destroy the house with bladers from all around Greece, Europe and beyond. Get destroyed at the now infamous after party.
Greeks are well known for their hospitality, so in true Greek fashion we shall try our best to find a nice place for all you bladers to stay for free!

Try visit up to 10 days before the event! There will be blading, trips to the beach, great food, partying and everything else summer related.

It would be truly great to have you here! The blade house is active almost all year long, so feel free to contact us if you visit Athens. All rollerbladers are most welcomed here!

Support Rollernews:
make your purchases on
Amazon via this link
. Thanks!
Tags: athens, athens blade house, greece, syeahskate