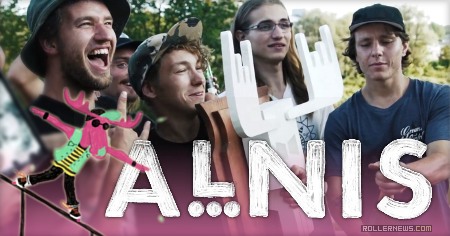 We had it all: California sun, raw streets spots, positive vibes, badass riders and craziest tricks. Glad to say that 9th year of A.L.N.I.S was more than successful. It was magical!
Editing by Agris Caurs. Filming by Agris Caurs, Martins Jansons, Armands Virbulis & Rene Lutterus.
PRO Results
Mats-Kaarel Ruus
Egor Loginov
Evert Lubja
BEST AM: Tomass Mezeniks
BEST JUNIOR: Kristaps Ladusans
BEST TRICK: Niklavs Katlaps
(bs ufo to bs savannah to gap on 2nd spot)
THEROLLING AWARD: Vova Turkin
Photo Galleries on Facebook: 01 | 02.
No login required.

Support Rollernews:
make your purchases on
Amazon via this link
. Thanks!